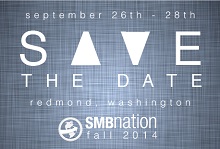 The 12th annual SMB Nation Fall conference is set for September 26-28, 2014, and will focus entirely on Office 365. The conference will be held at the Microsoft Redmond campus in Redmond, WA.
Harry Brelsford announced today that they are now taking reservations.
http://www.smbnation.com/content/news/entry/invest-forward-fall-conference-registration-open
I recall the excitement that surrounded his very first SMB Nation conference, which was held in Indianapolis, IN back in 2003.
https://kwsupport.com/2013/09/smbnation-2003-a-look-back/
If you have not attended an SMB Nation conference before, I would highly recommend it.